Women who have ever had sexual experience and are aged between 25 and 64 years old should have regular pap smears, NO MATTER whether you are single or married
If you are over 64 years old and have never had a pap smear, you should seek for doctor's advice even if you no longer have menstrual periods, haven't had sexual experience for many years or had sterilization.
1.Cervical examination (Pap smear):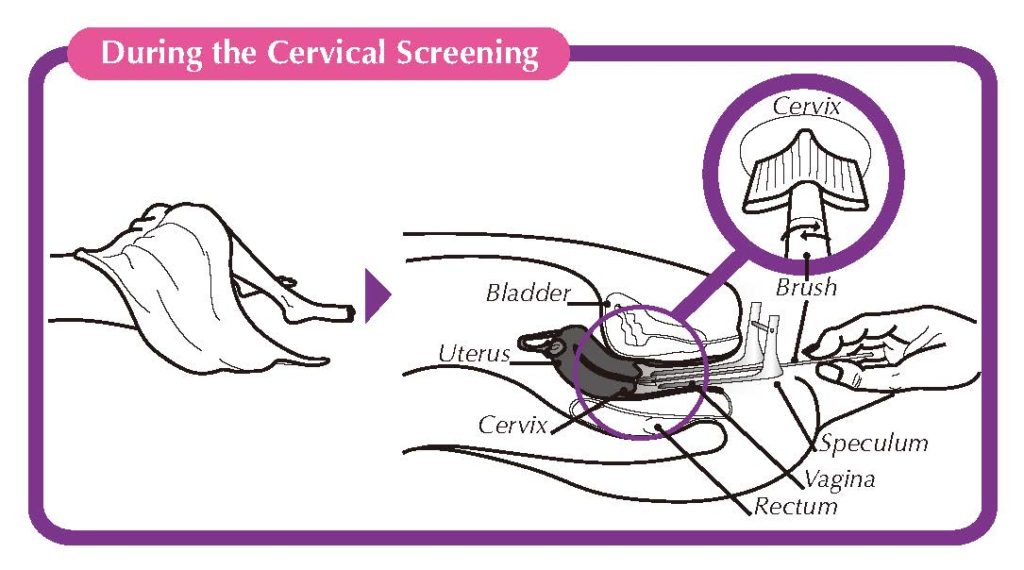 2.Taking tissue sample for examination
If you have the first pap smear and the result is normal, you should have a second one 12 months later. If the second test is also normal, you should have repeat smears at least every 3 years.

The Family Planning Association of Hong Kong
Women's Health Service

Contact no.

Pap Smear Charges (2021)

Yuen Long Clinic

149-153 On Ning Road, Yuen Long, N.T.

Pap Smear + Nurse Assessment*

HK$290

Women's Health Check-up including doctor assessment, urine analysis, pap test

HK$540 (with Pap Smear) / HK$280 (without Pap Smear)

Tsuen Wan Clinic

Room 1621-1622, 16/F, Nan Fung Centre, 264-298 Castle Peak Road, Tsuen Wan, N.T.

Wong Tai Sin Clinic

G/F, No. 1-2 Lung On House, Lower Wong Tai Sin Estate II, Wong Tai Sin, Kowloon

Ma Tau Chung Clinic

1/F, 105 Ma Tau Chung Road, Kowloon

Wan Chai Clinic

G/F, Southern Centre, 130 Hennesssy Road, Wan Chai, Hong Kong
* Women aged over 26 with any kind of contraceptive methods are eligible to have nurse assessment
Youth Healthcare center (YHCC)
Women's Health Service

Contact no.

Pap Smear Charges (2021)

Kwai Fong YHCC

Unit 702-705, Level 7, Tower II, Metroplaze, 223 Hing Fong Road, Kwai Chung, N.T.

Women's Health Check-up including doctor assessment, urine analysis, pap test

$410 (Entitled persons) /

$560 (Non-entittled persons)

Mong Kok YHCC

Room A, 13/F, Full Win Commercial Center, 573 Nathan Road, Mong Kok, Kowloon

Wan Chai YHCC

8/F, Southern Centre, 130 Hennesssy Road, Wan Chai, Hong Kong
Women clinic + Private clinics
Women's Health Service

Contact no.

Pap Smear Charges (2021)

TWGHs Well Women Clinic (North Point)

11/F, China United Centre, 28 Marble Road, North Point, Hong Kong

Gynaecological Examination including doctor assessment, urine analysis, pap test

HK$420

Kwong Wah Hospital Well Women Clinic

4/F, TWGHs Tsui Tsin Tong Outpatient Building, Kwong Wah Hospital 25 Waterloo Road, Kowloon

Union Hospital

18 Fu Kin Street, Tai Wai, Shatin, New Territories

Dr Consultation Fee + HK$500
Maternal & Child Health and Woman Health Services
Maternal & Child Health and Woman Health Services

Contact no.

Pap Smear Charges (2021)

Yau Ma Tei MCHC

1/F, 10 Yan Cheung Road, Yaumatei

Eligible Persons

HK$100

Non-eligible Persons

HK$205

Madam Yung Fung Shee MCHC

1/F, Madam Yung Fung Shee Health Centre, 26 Sai Ching Street, Yuen Long

Tung Chung MCHC

G/F, Tung Chung Health Centre, 6 Fu Tung Street, Tung Chung, Lantau Island

Tuen Mun Wu Hong MCHC

2/F, Tuen Mun Wu Hong Clinic, 2 Wu Hong Street, Tuen Mun

West Kowloon MCHC

2/F, West Kowloon Health Centre, Cheung Sha Wan Government Offices, 303 Cheung Sha Wan Road, Sham Shui Po

Tang Chi Ngong MCHC

4/F, Tang Chi Ngong Specialist Clinic, 284 Queen's Road East, Wanchai

Kwun Tong MCHC

LG Floor, Kwun Tong Community Health Centre Building, 60 Hip Wo Street, Kwun Tong, Kowloon

Tsuen Wan MCHC

9/F, Block C, Yan Chai Hospital, 7-11 Yan Chai Street, Tsuen Wan